Exciting expansion for the TUG autonomous mobile robots in hotels!  Sheraton San Gabriel has purchased 8 TUG robots to automate logistics.

As reported in Hospital Technology
Sheraton Los Angeles San Gabriel Hotel Creates 'Jetsons' Style Experience
The Sheraton Los Angeles San Gabriel Hotel, opening in January 2018, will be the first in the U.S. hotel industry to tout eight TUG robots. The robots were developed by Aethon, a provider of autonomous mobile robots. Known for its trusted service in healthcare, Aethon's robots will be introduced at Sheraton's newest Los Angeles property, located in San Gabriel, ten miles from downtown Los Angeles. Visitors to the 288-room stylish hotel will be greeted by Aethon's four-foot high, friendly-looking innovative TUG robots whether looking for directions to elevators or receiving an in-room delivery.
"Having eight robots is a first for the U.S. hotel industry, and we know our TUG robots will be an approachable, cutting-edge addition to the world-class service guests expect at Sheraton properties," said Wanda Chan General Manager. "Robots are the next wave of hospitality technology and we believe our overnight guests and those in the local San Gabriel community will find the robots to be intriguing and fun."
The TUG robots have a proven track record of success in hospitals globally by making more than 50,000 deliveries each week. The robots will easily navigate through the hotel using an internal built-in map. TUG robots also have sensors that will allow them to safely move around people and obstacles, and they will use the hotel's WiFi system to communicate with elevators and automatic doors.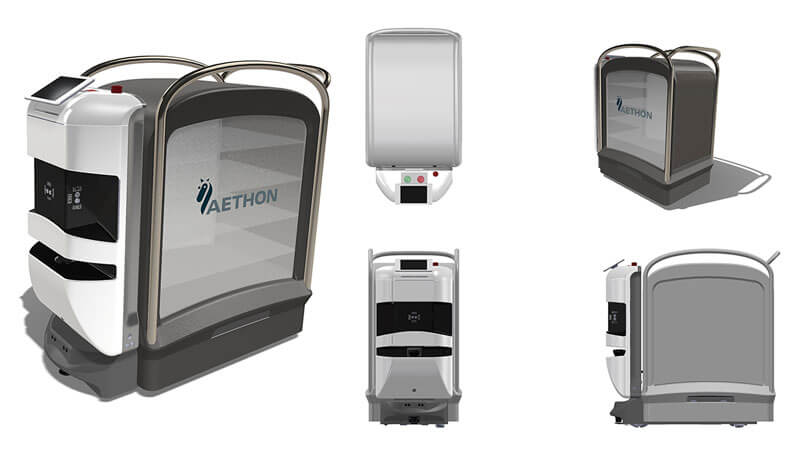 The "multi-use" robots will use the service elevators to deliver in-room items to guests such as luggage, meals, fresh linens and other guest items. The robots will be programmed to call the elevator, open service doors and ring guestroom phones when they arrive at the door. When finished with tasks, the robots navigate back to a charging dock before heading out again.
"The robots will work alongside our employees – not replace them. Their purpose is to make certain tasks more efficient, allowing staff to focus on the needs of guests and offering more personal touches," said Chan. "Sheraton's 'Go Beyond' program does that by delivering the highest standards of service to guests, and we believe these TUG robots will enhance their experience and they will come to appreciate the fast, reliable service the robots will deliver."