What if more cost effective production methods encouraged US companies to reshore their production back to the US?  Could robotic automation in manufacturing drive US economic growth?
Reshoring US Manufacturing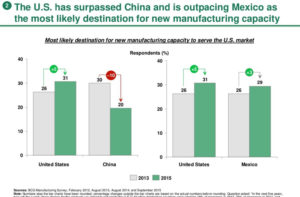 This is beginning to happen according to a survey recently released by Boston Consulting Group.  Companies who sell goods in the US and plan to add production capacity, plan to add that capacity in the US more than in any other country.
One driver of this shift, according to the survey, can be attributed to increases in automation technology.  This includes robotic automation in manufacturing.
Increases In Automation
Increases in automation combined with other advantages such as skilled labor, supply chains, and customer proximity are driving companies to bring or return their production to the US.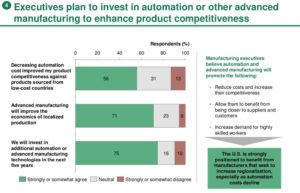 Driving improved productivity and cost competitiveness through increased automation is not a short term trend, nor is it limited to the US market.  This looks like a secular trend on a global scale and is a new wave.  We have seen multiple long term trends in manufacturing automation play out over the last 100 years.  For example, industrial robots have been around for 40 years and have spurred robotic automation in manufacturing.  But, according to BCG, 90% of all tasks are still performed manually.  There's no question industrial robots have had a large impact but there are even larger opportunities and markets to develop.   Some would say we are on a 4th generation of automation and have dubbed that "Industry 4.0".
Robotic Automation in Manufacturing
We know from our own experience at Aethon that companies are looking to automate currently manual processes but also want to connect islands of existing automation from previous generations to improve efficiency.  They want to augment existing production methods with new technology.  They want their robotic automation to communicate with other parts of the manufacturing fabric such as their manufacturing execution system.  In our case, this means automating the internal material delivery, movement and intralogistics using the TUG autonomous mobile robot.  There are other examples of collaborative, next generation robots that will be part of this automation wave as well.
Growth in Advanced Robotic Applications
BCG recognizes this trend and forecasts advanced robotics will go from 2%-3% adoption to 10% adoption globally in the next decade.  Further, they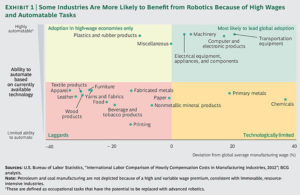 anticipate the share of tasks performed by automation to grow from the current average of 10% to 25% by 2025.  Certain industries are more likely to adopt than others including those who manufacture electrical equipment, machinery, computers and electronic products and transportation products.
Net Job Growth
As for net job growth, this executive summary presents the conclusion:  the prospects of job creation remain strong and executives anticipate net job gains in the next five years by 2:1.