Aethon recognized as a leader and market maker by Robotics Business Review and the Pittsburgh Technology Council 
PITTSBURGH–(BUSINESS WIRE)–Aethon is proud to be the recipient of two separate awards recognizing their leadership, growth and innovation.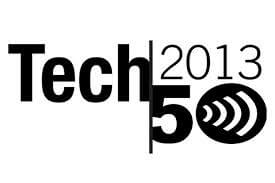 Pittsburgh Technology Council selected Aethon as 'Innovator of the Year' during their Tech 50 gala on October 10, 2013. Aethon was evaluated and ultimately selected from a diverse group of nominees by a panel of judges and recognized for their innovative intralogistics™ platform which automates physical delivery and provides real-time tracking of deliveries within an organization. The intralogistics platform includes the smart autonomous mobile robot (TUG®) which delivers medications, laboratory specimens and meals and hauls loads like linens and waste up to 1000 lbs. It is complemented with a real-time delivery tracking system (MedEx™) to provide visibility to internal deliveries and ensure chain-of-custody control of medications.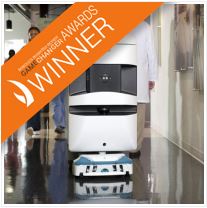 Aethon also took home a 'Game Changer' award from RoboBusiness in Silicon Valley on October 24, 2013. Aethon was selected as a winner in the Autonomous Navigation category by judges from the International Journal of Advanced Robotic Systems and the business and investment community along with editors from Robotics Business Review and Robotics Trends. During the conference, Aethon also delivered a keynote presentation discussing El Camino hospital and their implementation of 20 TUG robots. See the recording here.
Aethon's TUG is a smart mobile robot able to autonomously, without human intervention, deliver materials by navigating the hospital hallways, riding elevators, and opening doors. It navigates using an onboard map and utilizes a scanning laser and 27 infrared and ultrasonic sensors to detect and monitor the environment in real time.
Aldo Zini, CEO of Aethon comments, "I am proud our technology has become commonplace among hospitals and is being recognized by colleagues and thought leaders. We have always strived to develop solutions that solve real-world problems and provide tangible value to our customers. We believe understanding and providing solutions to customer problems is the heart of innovation."
Aethon is a leader in intralogistics automation and has automation solutions in over 140 hospitals with over 400 TUG robots deployed. Aethon's intralogistics and tracking solutions provide automated robotic deliveries in a variety of hospital departments including pharmacy, laboratory, dietary and environmental services. Their MedEx software system is an extension of their expertise in pharmacy and tracks delivery of medications in real time from the pharmacy to the nursing unit. It reduces time spent tracking down missing medications and allows for chain-of-custody traceability of medication deliveries.
Aethon's products are manufactured, sold and supported from its headquarters in Pittsburgh, PA. The company grew 83% last year and is now expanding sales and marketing into global markets. For more information visit http://www.aeth001-1.sierradevops.com.