A distinct competitive advantage is given to companies who leverage intralogistics technologies – or technologies to manage the internal logistics of their operations –  to streamline supply chain management.
The traditional supply chain encompasses three functions:  supplying materials to a manufacturer, the manufacturing process, and the distribution of finished goods through a network of distributors and retailers.   However, the internal process of material handling and movement is gaining attention.  By improving the management of these internal processes, firms can realize additional benefits in their overall operation:
inventory can be minimized
costs can be reduced
product time to market can be improved
flexibility can be enhanced
employee safety can be improved
The growing emphasis on intralogistics was clear at CeMAT 2016, which featured roughly 1,000 exhibiting companies from 44 countries, presenting solutions for efficient and intelligent management of logistics chains. The show made it clear that the intelligent warehouse is already reality. Each day of CeMAT, intralogistics and its many applications were discussed at the three forums: Logistics and Automation, How the Internet of Things and Industry 4.0 Will Change Intralogistics, and the role of Robotics in Logistics.
Demands on Intralogistics are Growing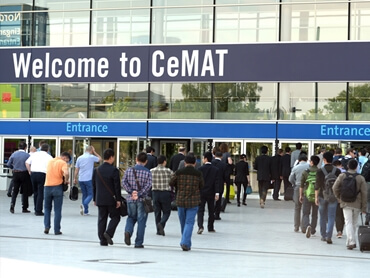 According to the CeMAT 2016 After Report, "solutions must be intelligent, connected, highly flexible, transparent, fast, and efficient. In today's manufacturing, 'batch size' is more and more in demand, mirroring the individual nature of online orders in the retail business. In both scenarios, customers expect immediate availability along with continuously decreasing prices. This is only possible with new Industrie 4.0 concepts that enable the close, intelligent integration of production and logistics."
Robotics and Automation News reports that perfect supply chain management is a basic requirement:  "Efficient stock keeping and optimally matched processes are crucial to ensure uninterrupted production and assembly. Intralogistics experts are increasingly looking at the role of robotics and automation when well-acquainted with the requirements placed on near-assembly and near-production warehousing systems."
The advantages of robotics are becoming increasingly appreciated across all sectors. Robots are extremely powerful and they also relieve staff of heavy, monotonous and tiring work. Experts in innovative intralogistics offer numerous possibilities to integrate robotics solutions into material flow.
Aethon's TUG robot is a great example of maximized intralogistics, autonomously transporting and delivering materials within organizations. The TUG Robot has two basic types of configurations:  fixed secure carts and an exchange base platform to carry a multitude of racks, carts or bins. The fixed carts, ideal for hospital applications, are available in drawer and door configurations and are accessed using a personal pin code and biometric authentication.  The exchange platform, ideal of materials handling, allows the transportation of materials loaded on a wide variety of racks. The racks are placed on the base and this base rises to lift the rack or shelf off the ground.
Unlike AGV robots of the past, TUG doesn't need beacons, staging depots or specific infrastructure to be added to the facility. A map of the facility is created using a highly accurate laser floor dimensioning tool. The facility layout is then programmed with routes including use of elevators, auto-opening doors, delivery points and charging stations. The TUG uses the on-board map for guidance and calculates its location in real time through an Aethon-patented odometry algorithm.  It uses its on-board sensors to adjust to dynamic and changing hallways and warehouse aisles in real time to safely navigate around people and obstacles.  Upon completing a run, the self-charging TUG returns to the charging dock while it is loaded for the next job.
Intralogistic innovations like these are bringing supply chain partners face to face with the future. The more a supply chain is able to integrate and coordinate its activities, the more likely it will be to optimize the flow of goods from supplier to customer and to react efficiently to changes in demand. Companies are facing ever shorter delivery times, requiring higher flexibility and efficient goods management. Those failing to embrace automated intralogistics solutions will be unable to compete.