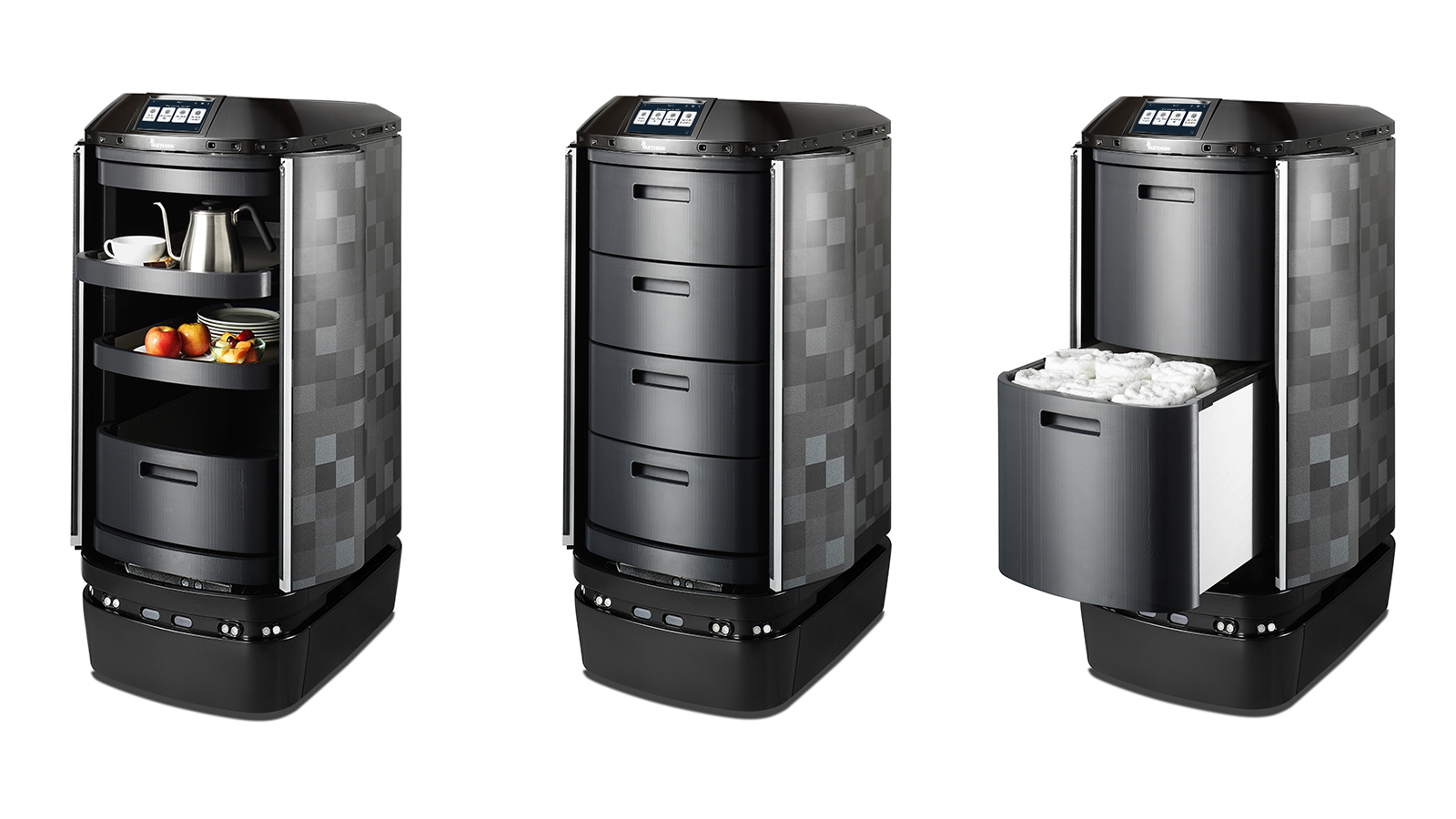 PITTSBURGH–(BUSINESS WIRE)–Aethon, a company of ST Engineering, is expanding its successful line of autonomous mobile robots with two specialty products for the hospitality market. These new products will be showcased at the HITEC 2019 show in Minneapolis.
Aethon will demonstrate the T4G, a mobile robot designed to delight guests and streamline front of house operations by automating deliveries to guest rooms and other public areas of the hotel. Traveling the hotel autonomously and on-demand, this patent-pending robot provides secure delivery of a wide variety of goods including food, personal items, packages, and supplies.
The Aethon T4G helps address the staffing shortages and rising labour rates affecting hoteliers while at the same time providing new experiences through a guest-driven service model and enhancing guest privacy and security. The product was designed from the ground up to be human-centered and easy for guests to use. Its sleek and modern exterior can be tailored to match different interiors and branding schemes. Its large payload is easily reconfigured to provide different cabinet form factors and delivery options, including the ability to make multiple secured deliveries in a single trip.
Aethon also will demonstrate the T4, which is designed to provide automation for the heart-of-house operations, such as housekeeping and event services. The T4 mobile robot automates delivery functions through cart pickup, transportation, and delivery of payloads up to 250 lbs. Aethon will showcase this new T4 robot and an innovative cart and bin configuration that changes housekeeping and room turnover procedures. The new design will enhance safety for housekeeping staff, increase hotel operational efficiency, and reduce hall congestion for guests.
The T4 and T4G add to Aethon's existing T3 line of robots with models capable of delivering up to 1,400 lbs.
"We believe robotics are becoming an important part of the hotel landscape," says Mike Lerman, General Manager, AC Hotel by Marriott San Jose Santa Clara. "We wanted to work with a company who had proven experience deploying mobile robotics but also one with an innovation pipeline of products designed for hoteliers," he added. "Aethon was the only company who had both experience and a pipeline of innovative products. They have been an outstanding partner for our two new franchise hotels." The AC Hotels by Marriott San Jose Santa Clara is an Aethon beta partner and will be the first in the country to deploy the new robots from Aethon.
"Hospitality is an exciting new market for us," said Aldo Zini, President of Aethon. "There are many applications across the hospitality landscape including hotels, but also extending to convention centers, casinos, event and sporting venues, and even high-rise residences," he added. "We believe the factors of security, privacy, convenience, and efficiency are all strong motivators and benefits to mobile robotic technology."
Aethon, a company of ST Engineering, is a leading provider of autonomous mobile robots. Aethon's installed base of robots travel over 5,000,000 miles per year making deliveries in hospital, hospitality and industrial settings. For more information, visit www.aeth001-1.sierradevops.com.
ST Engineering is a global technology, defence and engineering group specialising in the aerospace, electronics, land systems and marine sectors. The Group employs about 22,000 people across offices in Asia, the Americas, Europe and the Middle East, serving customers in the defence, government and commercial segments in more than 100 countries. With more than 500 smart city projects across 70 cities in its track record, the Group continues to help transform cities through its suite of Smart Mobility, Smart Security and Smart Environment solutions. Headquartered in Singapore, ST Engineering reported revenue of $6.7b in FY2018 and it ranks among the largest companies listed on the Singapore Exchange. It is a component stock of the FTSE Straits Times Index, MSCI Singapore, SGX ESG Transparency Index and SGX ESG Leaders Index. For more information, please visit www.stengg.com.
Contacts
Tony Melanson
VP Marketing
Aethon
Tmelanson@aeth001-1.sierradevops.com
412-322-2975