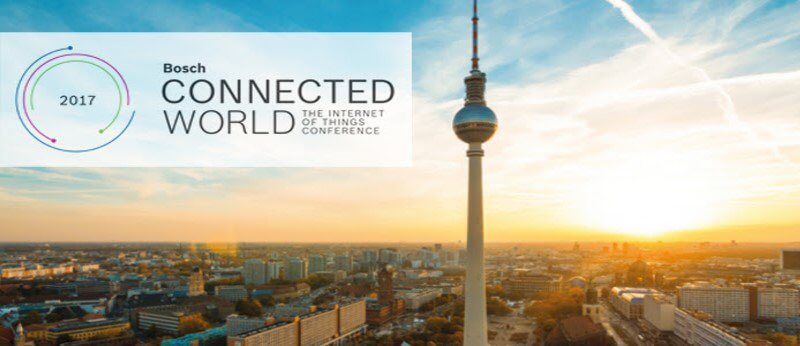 Aethon is attending Bosch ConnectedWorld  to be held On March 15 and 16 in Berlin, Germany and has been invited to present two sessions at this conference:
Aldo Zini, CEO of Aethon, will present the topic of automating intralogistics using autonomous mobile robots.  This will be on the main stage on March 15 at 11:30am.  During the Connected Logistics & Supply Chain breakout session Mr. Zini will discuss how TUG autonomous mobile robots are enabling industry 4.0 automation and are part of an internet-of-things (IoT) backbone which is integral to intralogistics automation strategy at Bosch.
Tim DeRosett, VP of Industrial Automation at Aethon, will present a session entitled "Connecting Islands of Automation with Autonomous Mobile Robots" in the exhibit hall on Thursday, March 16 at 3:15pm
In addition to presenting thought-leading insight on autonomous mobile robotics for manufacturing, Aethon is a Gold Sponsor and will have an exhibit with the TUG robot on display.  Aethon is proud to be a Gold Sponsor along with other prestigious, global organizations such as DELL, Huawei, CISCO, IBM, Intel, MHP, Optimal, Salesforce, SAP, Software and Software AG.
More about Bosch ConnectedWorld
To be held at STATION-Berlin, the event will bring together 2,500+ Bosch executives, customers, partners, and senior leaders to discuss trends and real-world implementations up and down industry value chains.
More than 150 speakers will dive into the IoT from different angles to show engaging live demos and results from projects implemented in manufacturing, mobility, city, homes and buildings, agriculture, and other verticals. They will provide examples about how those solutions improve the way they run their businesses, bring new business models and revenue channels to life, streamline and automated their processes, or make the lives of their customers, citizens, or employees safer, easier, or more comfortable. Additionally, more than 50+ exhibitors will show successfully implemented IoT solutions on the 5,500 m² exhibition area.
In the integrated Bosch ConnectedExperience more than 500 software and hardware developers, product designers, and product managers from Bosch customers, IoT start-ups, and independents will come together to tackle challenges in four different IoT hack challenges. By learning, sharing, making, and hacking, developers can bring their IoT ideas and products to life by working with Bosch and Bosch eco-system partners' hardware and software products.